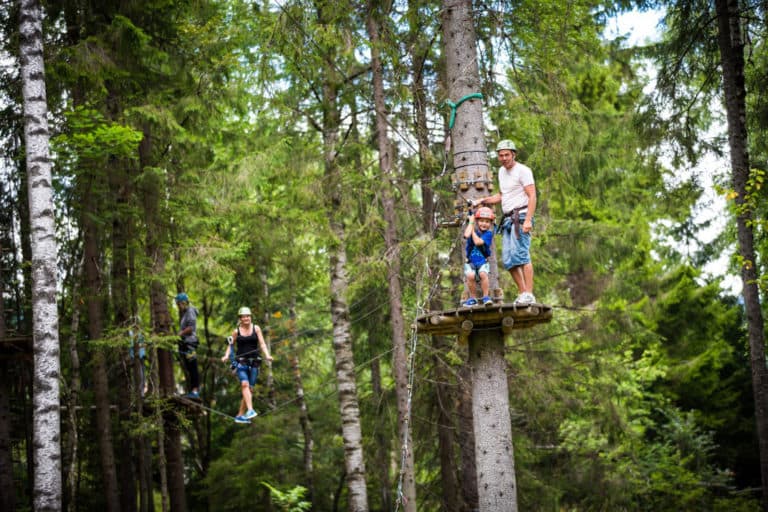 High and low
Directly connected to the campsite, next to the miniature golf course, is this year's great new addition!
A climbing park for the entire family, in which you can play, train, climb, and challenge any fear of heights you may have at the same time!
Here you can find many exciting obstacles and zip-lines, divided across 6 different courses with varying degrees of difficulty. No prior experience is needed, and all instruction will be given on site. Feel free to book a harness using the link below, to guarantee yourself a spot. The same site will display open hours and price lists.
Bathing in Siljan
A short walk of approx. 1 km takes you to the Siljansbadet and the Långbryggan docks, where you can find a fantastically pretty sandy beach with extremely long shallows. Those who cannot be bothered to wade for a few hundred metres to get the water up to their waist can instead simply bathe from one of the many bathing docks available at different depths all along the Långbryggan docks.
Långbryggan is 628 metres long and offers a nice walk with lovely views. There are several benches to sit on along the docks, as well as many smaller bathing docks placed on each their own side of the dock. All the way at the end, the ship M/S Gustav Wasa sets out for its summer trips on Siljan. Next to the beginning of Långbryggan, you can find the restaurant Sjövillan, which has lovely outdoor catering with a view of the beach and docks.
Near the northern end of the beach is Strandrestaurangen, as well as our sister campsite, Siljansbadet Camping. There, you can find a small shop, miniature golf, a volleyball net, and a playground directly adjacent to the beach. At the Siljansbadet shop, you can purchase drinks, treats, ice cream and snacks, etc. You can even rent a bicycle car, pedalo or bicycles, for those who want to explore the area further. At the southern end of the beach is "Helsingland", a grassy cape suited for sunshine, bathing, and picnics. There are even some spots to tie up a boat.
The beach sits perfectly in the sun all day, and in the evening, you can often see a gorgeous sunset. For those who would like some shade, there is plenty of shading vegetation.
You can find a dog bath in the bay, directly north of Siljansbadet Camping and the Rättviks Kyrka Church.