Leo's Lekland
As long as there are indoor soft play areas there is no bad weather! Try out Leo's Lekland, the largest and most well-visited indoor soft play brand in the Nordic countries, with lots of fun for all children.
Read more about all the attractions in the indoor soft play area at leoslekland.se.
---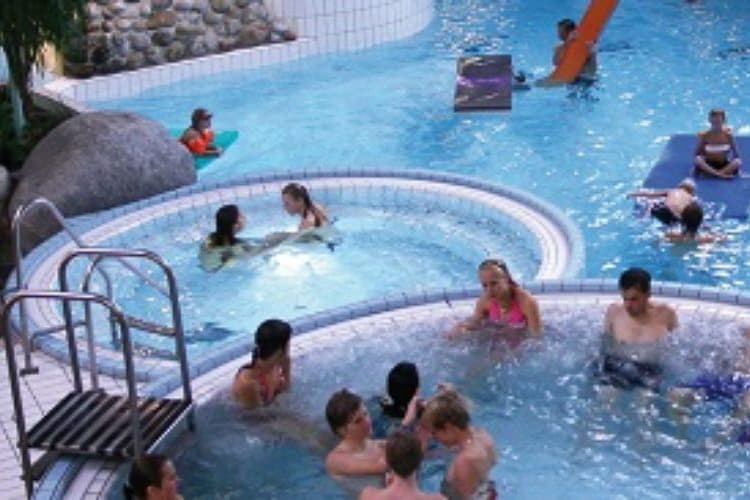 Himlabadet
Swim, surf, play or do some much needed relaxation with a cold drink. Himlabadet in Sundsvall offers a real adventure.
Water park
The water park has everything you need for a fun and exciting water experience with friends and family. There are attractions for young and old. You can climb the himlabadet tower and throw yourself down three different water slides, swim against or with the current in the circular pool, climb the climbing wall or try the water piste – a steep course with water spraying towards the middle.
Why not finish with a visit to kolmilan? A warm pool inside a cave, black on the outside and orange walls on the inside that give you a sensation of being surrounded by flames.
The toddlers area
Two smaller pools of varying depth, one with a beach. Perfect for the youngest children. The attractions include two water slides, waterfall, cave, play sculptures and a mini jacuzzi. Right next to it is a jacuzzi for adults and benches. There is a toilet with nappy changing facilities just around the corner.
Surfstream
Himlabadet is the first in Europe to have the surf machine Surfstream, an attraction for both young people and adults. Surfstream is constructed like a tidal wave and gives makes it feel like you are surfing real waves. It is flexible, several people can surf at the same time and the water speed can be adjusted to adapt it in the best possible way to the surfer's ability.
Read more at himlabadet.se.