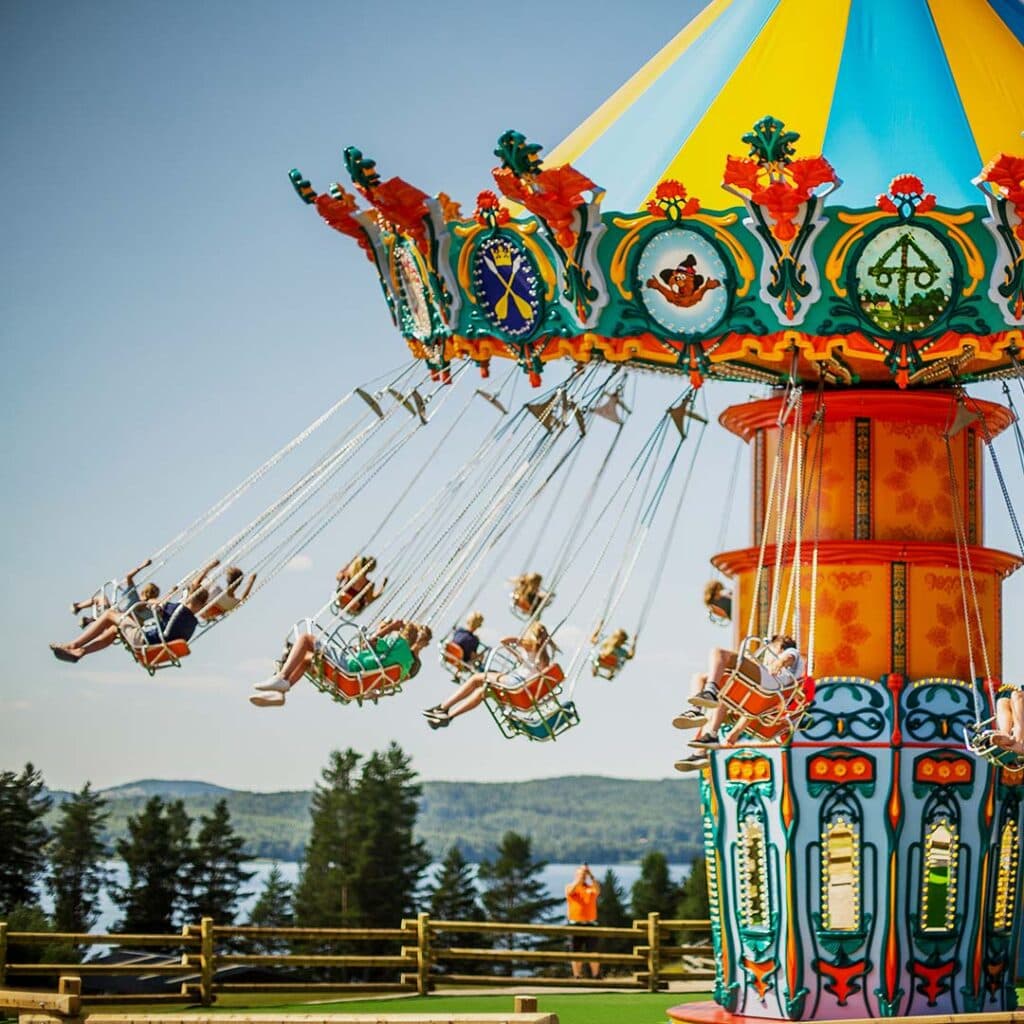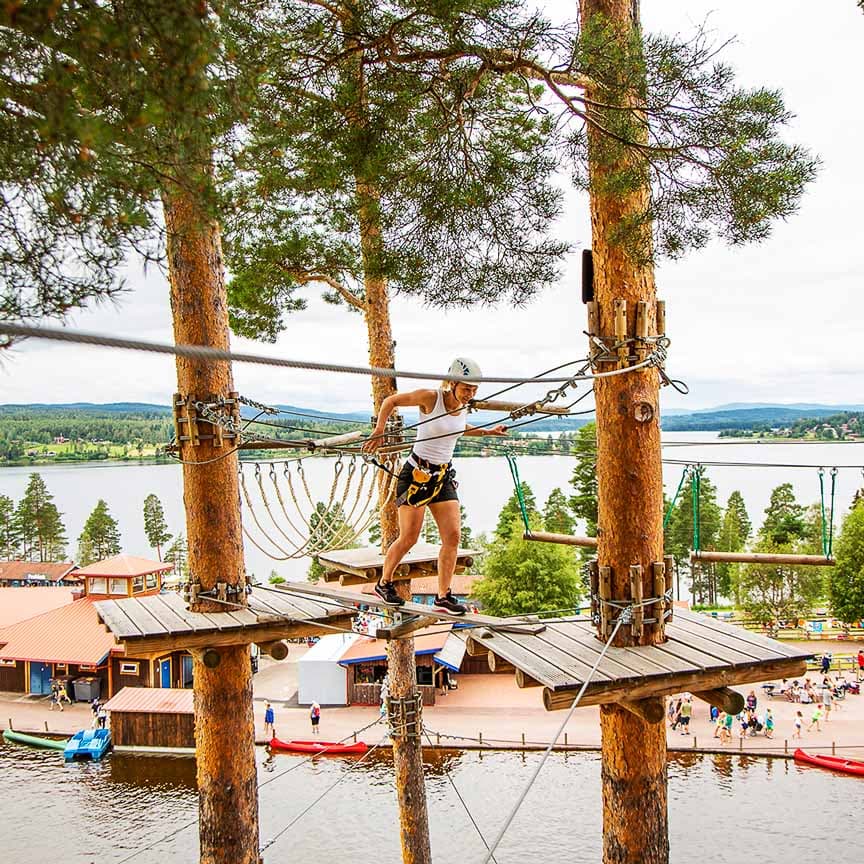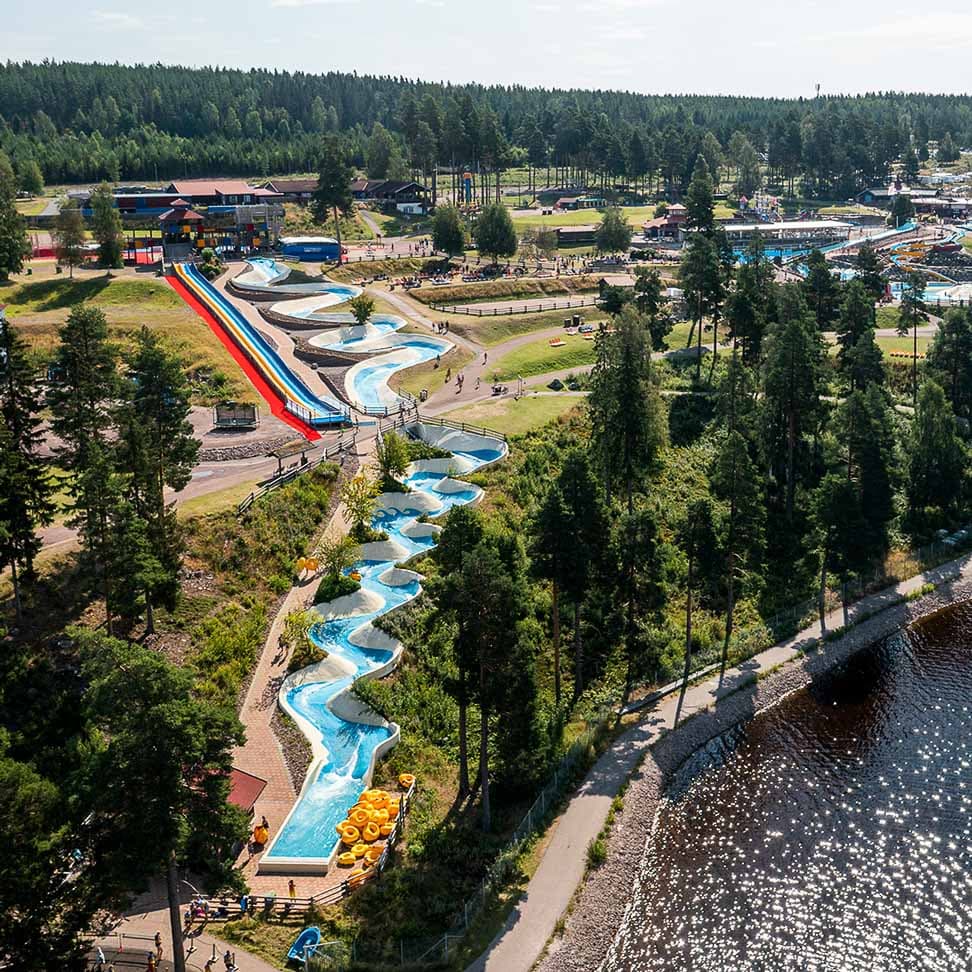 Leksand Sommarland
Dalarna County's summer paradise
Welcome to Leksand Sommarland! Families from all over Sweden travel here for a fantastic experience. More than 140,000 visitors come here every year to bounce, jump, play and splash around. Leksand Sommarland has something for the whole family – big and small. Are you a water lover or an adrenalin junkie? With more than 50 attractions and activities, there is something to challenge even the bravest and most energetic of visitors. At Leksand Sommarland you are guaranteed an unforgettable adventure! The park is located close to several of our destinations in the heart of Dalarna County. Beautifully situated on the slopes of Lake Siljan, and with a range of fantastic attractions and activities, Leksand Sommarland is a summer paradise for family members of all ages. Our destinations in Dalarna County offer a wide selection of accommodation options, from cosy cabins to comfortable camping spots and luxurious glamping – there is something to suit everyone's taste and budget. A day trip to Leksand Sommarland from one of our destinations is the perfect way to combine relaxation and adventure. You can spend a couple of days at the campsite, relaxing and enjoying nature, and then take a trip to the amusement park to experience the thrills and excitement of all the attractions and activities.
Opening hours 2023
17 June – 2 July, 10.00-17.00
3 July – 13 August, 10.00-18.00
Accommodation + Leksand Sommarland = Great Offer!
Here is an offer you won't want to miss! Book accommodation at one of our destinations in Dalarna County online via firstcamp.se, and you can buy entrance tickets to Leksand Sommarland at a favourable price. You have the option of choosing a 1-day or 2-day ticket, as well as the day(s) during your stay for which the tickets are valid.
How to book:
Select the destination and type of accommodation in the online booking system (applies to all types of accommodation)​
In the next step, select "Leksand Sommarland" and click on the "add" button​
Choose between 1-day ticket* and 2-day ticket**​
Select the date, time and number of tickets, and click on the "add" button​
In the overview to the right of the online booking screen you will now see the ticket type you have chosen
Check the details and pay at checkout as usual with Klarna​
You will receive two booking confirmations via email – one with information about your accommodation from First Camp, and one with your ticket details and QR code for Leksand Sommarland, from Leksand Strand as the sender.
1-day ticket for Leksand Sommarland valid on the date you select.*
2-day ticket for Leksand Sommarland valid on the date you select and the next day.**
Price via firstcamp.se in combination with booking of accommodation:
1-day ticket: SEK 425
2-day ticket: SEK 605
The same price applies to children and adults, although children under 1 metre in height have free entry.
* You can choose whether you want the ticket to be valid for use on your day of arrival or the next day.
** If you have only booked accommodation for one night, the ticket is valid for use on your day of arrival and the next day. If you are staying for several nights, you can choose the first date on which you wish to use the ticket (the ticket is always valid for two days in a row).
---
Regular price 1 day: Off-peak (17 June – 2 July) SEK 425 Peak season (3 July – 13 August) SEK 495
Regular price 2 days: Off-peak (17 June – 2 July) SEK 605 Peak season (3 July – 13 August) SEK 725
A selection of attractions
Are you looking for adrenaline and excitement? At Leksand Sommarland there are carousels and activities for young and old. Sommarland has a complete water park with slides and heated pools, as well as the longest rafting course in Sweden. There's the high-altitude course for the brave, the drift map course for the speedy and the chain flyer for those who want to soar among the clouds. It's impossible to mention Drop N Twist without getting a tingle in your stomach. A spinning high roller where you quickly go up and down as the carousel spins. Here the family has every opportunity for a fun-filled day!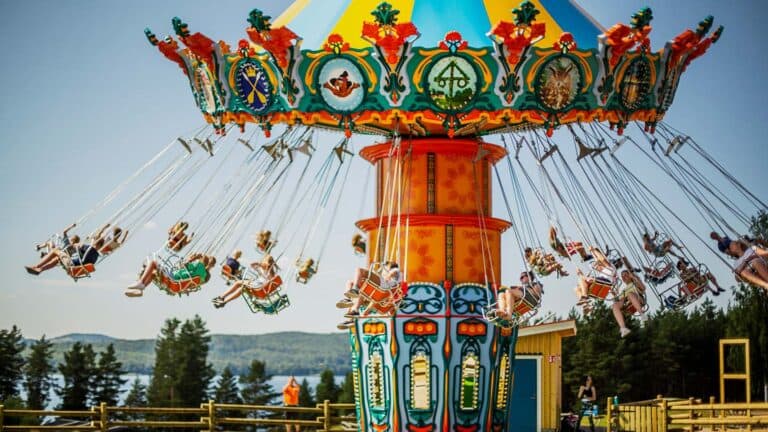 The Chain Flyer
Can you feel the euphoria? Soar and twirl 20 metres up in the air on a classic ride! Bonus points to anyone who dares to stretch out their arms!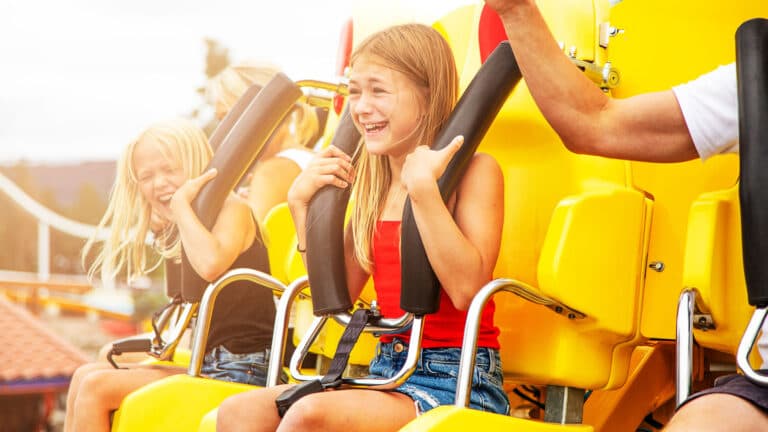 Drop´n Twist
Feel the tingling in your stomach when you are 17 metres up in the air and then quickly drop and rise again while twisting at the same time.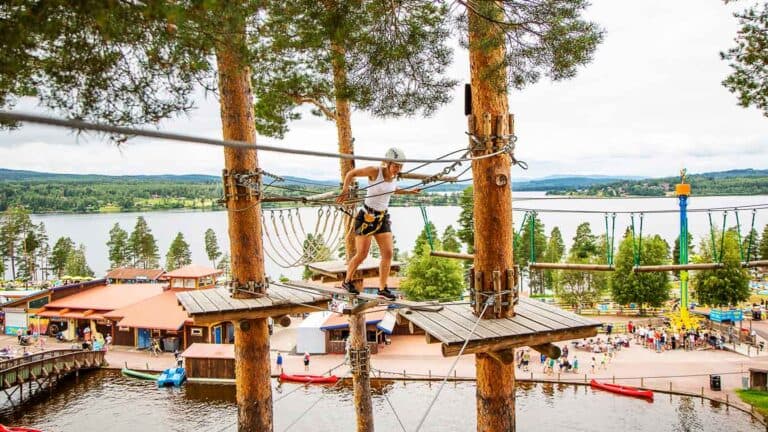 High-altitude course
Here you can enjoy the experience of climbing up to a height of 10 metres. Climb among the treetops for amazing views of Lake Siljan. Can you complete the whole course without getting dizzy?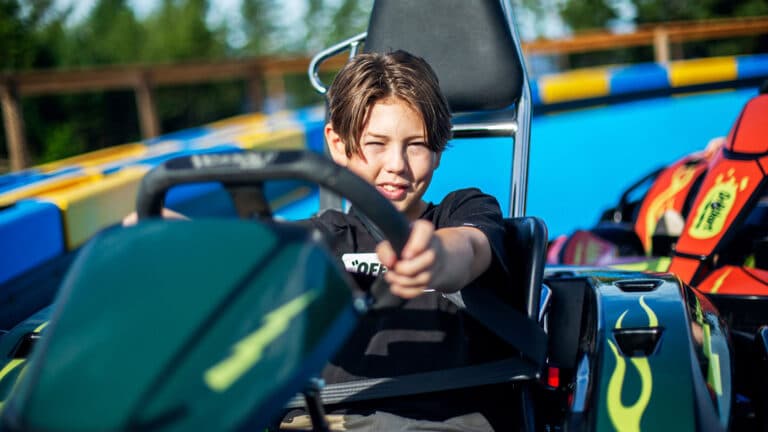 Driving force
An adrenalin-pumping experience as you glide along the track in an electric go-kart. A specially designed surface makes the driving experience extra fun!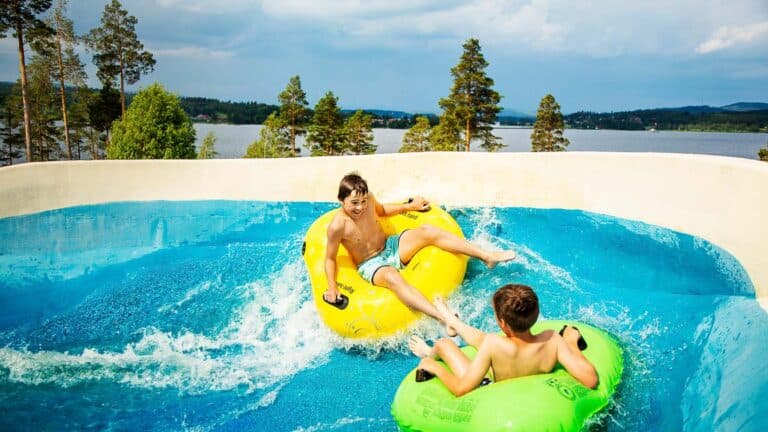 Water park
Splash! A complete water park with 10 slides in heated pools. Compete with friends to see who can be the quickest down from Speed Hill, or experience the thrill of Free Fall and its 17 metre height drop. Here you will also find Sweden's longest artificial white water rafting course – Crazy River.